KATRINA UPDATE
NOTE: PLEASE SEE BELOW LATEST ENTRY FOR A LIST OF DESPERATELY NEEDED SUPLIES
I am sitting in my truck trying to put into words my experiences and it is not easy…The devastation here is hard to process and given my location right now and the lack of sleep I will do my best…
We landed in Houston, Texas on Sept. 7th. The next day we rented a truck, packed it with supplies and set out for New Orleans. To see it on News is one thing but to actually witness such devastation in person is indescribable.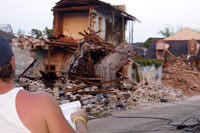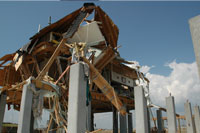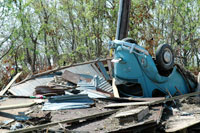 We drove into the French Quarter and set up our base camp and quickly began assessing the surrounding areas. We mapped out our routs looking for large areas that were dry, easily accessible and centrally located. We spoke with local authorities as well as National Guard and locals to get an idea of what areas would be the safest and accessible.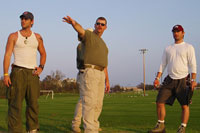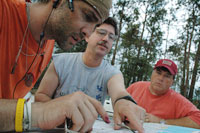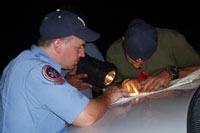 The plan is to find areas where we could set up a shelter or some kind of community center where people could get info, food, water, medical attention, counseling, registration forms etc. This is something that need s to happen now. These people cannot wait and should not have to wait. The idea is to start the process now rather than later.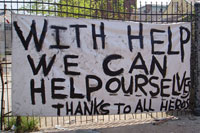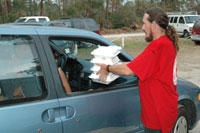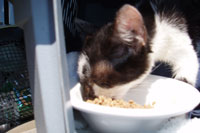 I feel that the State and Federal organizations are doing their best from what I can see in this area but as you move out to surrounding areas the AID seems to diminish. The most common complaint we hear from people is "where is the AID?" Again, the State and Federal Org's. are doing the best they can and I think humanitarian groups need step it up and start focusing on logical solutions. We need to start thinking 3 steps ahead to rather than waiting for problems to surface.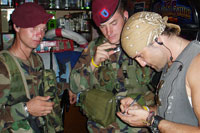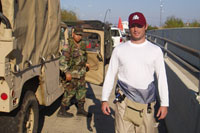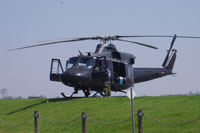 Before we left we contacted a major outdoor apparel and equipment company called The North Face, and have received our fist truck load of top of the line backpacks, sleeping bags, and tents.They have donated huge amount of product from warehouses across the United States to CAN-DO to get out to these people in need. On 9/17 we received our first truck packed with tents, sleeping bags and back packs that we are filling with supply kits. The generosity from this company is unbelievable and MUCH needed.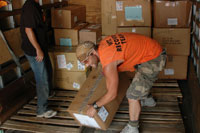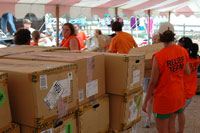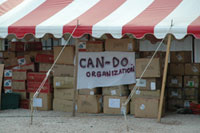 Little recognition is going to the local parish's that have really stepped up and are doing AMAZING work. We have teamed up with an organization called PRCcompassion and they are incredible! I will write more about them later, but my computer is about to die on me…
There is so much more that I need to get out and will try to get to tomorrow or the next day…So, please check back with us and know what ever comes our way I will personally promise that we will get it directly to these people in dire need.
I cannot stress enough how much AID and support these people need… you are not seeing the half of it TV and there is so much more we can be doing. These affected people should not be suffering like this and they need our help desperately.
DESPERATELY NEEDED SUPPLIES AND SHIPPING ADDRESS:
CLEANING SUPPLIES – bleach, disinfectant, brushes, brooms, masks, laundry & dish detergent, garbage bags, gloves, snow shovels, rakes, plungers, garden hoses w/ nozzels, trash cans, buckets, tarps
HOUSEHOLD SUPPLIES – batteries (D,C,AA), flashlites, propain stoves, shampoo, razors, tooth brushes, hair combs, hair brushes, hand sanitizer, diapers (size 1&2)
SHIP TO:
Joy Fellowship
1510 Lindberg Dr.
Slidell, LA 70458
thanks
ek